About Couto Construction
The experts at Couto Construction have been successfully completing projects since 1987. We are a quality-driven, certified roofing company that always delivers high-quality results. We have completed a wide variety of projects at homes both large and small, so our knowledge in the areas of construction and customer satisfaction is expansive.
We pride ourselves on always learning, always expanding our knowledge base, so we can keep delivering great results to the residents of Southeastern MA. Couto Construction can handle any project with skill and efficiency. If you feel your roof replacement or other home improvement project requires something unique, trust us to find the best solution.
About the Owners
Jason Couto has been working in the construction industry ever since he was a child. He spent his summers helping his father with the family business, Couto Construction, of which he is now the second-generation owner. With various manufacturer and industry certifications, Jason is well-equipped to lead the company and help handle finances, marketing, sales, estimating, and more.
Outside of work, Jason enjoys spending time with his family. He also likes playing soccer, watching movies, scuba diving, playing golf, and attending social events.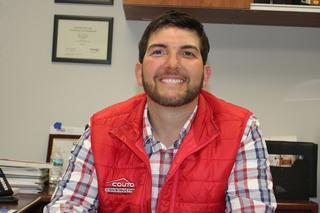 Derek began working in the industry at a very young age and has been working at Couto Construction for 20 years. Some of the things Derek loves about his work are: overcoming the challenges he faces in his job, making his clients' dreams come true, and learning about all the tools and methods that come with the job.
Outside of work Derek is a dedicated family man, loves to spend time with his family and is passionate about his work.
Community Involvement
Couto Construction believes in the importance of giving back to our community. We participate in and support many charities and organizations, including:
Team Noah Foundation
Friendly Sons of St. Patrick
United Way of Greater New Bedford
Friends of Child and Family Services
Care for South Coast
South Coast Soccer
DYSA Dartmouth Youth Soccer Association
New Bedford High School Band Boosters Association
St. Michael's Youth Soccer
Special Olympics
Dartmouth Police Relief Association
New Bedford Firefighters
Westport Police
Acushnet Police
Whaling City Baseball League
Looking for a price? Get a no cost, no obligation free estimate.