Nervous About A Surprise Roof Replacement? 5 Ways To Finance Your Unexpected Roofing Project!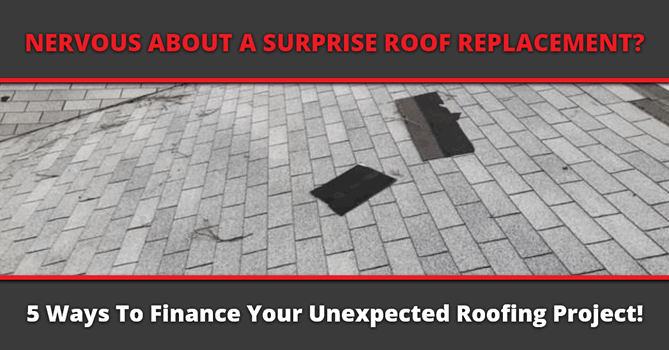 When it comes to home repairs, few things can be as daunting and expensive as needing a roof replacement. Not only can it come unexpectedly, but the financial burden can also add to the stress. Many issues make a complete roof replacement necessary. Some, like the natural aging process, happen gradually, giving you enough time to prepare accordingly. Conversely, complications like storm damage or rapidly spiking energy bills may catch you unaware. Fortunately, Couto Construction understands the importance of having a reliable roof and offers financing options to make the process more affordable. Below we've listed some options that you may want to consider if you find yourself in need of an unexpected roofing project.
Financing Options
Get a Home Equity Loan
Do you have equity in your home? Equity in this scenario refers to the value of your home that you control compared to the one under your mortgage lender's sway. If yes, you can use it to get financing through a home equity loan.
As the name suggests, a home equity loan lets you borrow against the equity you have in your home. Various institutions offer these financing solutions, including conventional banks, online lenders, and credit unions.
You can use a home equity loan to pay for diverse large purchases, a roof replacement included. The best part is this solution comes with other benefits, such as low-interest rates, tax deductions, predictable payments, and easy application.
But before choosing to pay for a new roof using a home equity loan, note this: most institutions require borrowers to satisfy specific requirements. For instance, you may need at least 20% equity in your home, a 680+ credit score, and a low debt-to-income (DTI) ratio. Check with your lender to find out the exact demands.
Use a Credit Card
According to statistics, the average American has at least four credit cards. Owning multiple cards has its fair share of pros. They can help you maintain a low credit utilization ratio and earn rewards from purchases. Most importantly, your cards can come in handy when your home demands a new roof.
Using a credit card to finance a roof replacement may be feasible, especially when your credit card company offers low-interest rates, bonuses, and incentives to holders who meet and exceed certain spending thresholds. Another benefit is that the credit card is more accessible than other financing alternatives because you already have it. On the contrary, approval for alternatives like personal loans can sometimes take weeks.
Tap Into Your Emergency Funds
Many people in the US keep emergency funds and use them as a safety net when disaster hits. As a homeowner, these funds can be a godsend when urgent home improvement projects arise.
With an emergency fund, you can quickly get a new roof without resorting to tricky solutions like payday or auto title loans. This financing solution also helps you protect your investment and your home's value without paying interest on a loan. So, especially if you plan to list your home soon, consider using emergency funds to pay for a new roof and other projects, as those funds will be re-supplied quickly following your home's sale.
Consult Your Policy Provider
Generally, an all-perils homeowners insurance policy covers various issues, including roof damages and replacement. If you have this coverage option, your property insurer should pay for any problem not explicitly excluded from your policy.
If you have a homeowners policy and your roof demands replacement, contact your policy provider to ascertain if they'll cover the project. Most insurers cover damages arising from sudden accidental events and acts of nature. But, they may deny a claim related to lack of maintenance or the normal aging process. For these reasons, you should make inquiries beforehand.
Seek Financing From An Expert Roofer
Most reputable roofers offer roof financing options. Some use their in-house coffers, while others partner with outside third-party financial institutions. Either way, working with a roofing company that offers financing is worth consideration. Why?
Financing options from reputable roofers come with unrivaled flexibility. For example, some companies allow you to repay the money over a long period. Moreover, most have fixed monthly rates, which helps you budget accordingly. Exceptional contractors also lay out easy-to-understand terms and prioritize transparency.
How Can We Help You?
At Couto Construction, we take pride in providing our clients with top-quality roofing systems that offer impressive longevity. With our 0% financing option, you can have peace of mind knowing that you won't have to make any payments upfront. This makes it easier for you to get the roof replacement you need without breaking the bank.
Whether you live in Rhode Island, Cape Cod, or Massachusetts, our team of experts is ready to handle all your roof replacement needs. Don't let a faulty roof compromise your home's safety and value. Contact Couto Construction today and let us help you protect your investment.