4 Places Your Attic Needs Insulation To Improve Energy Efficiency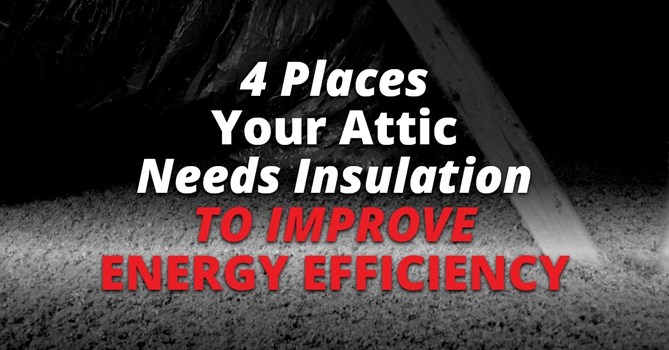 As energy prices rise, attic insulation efficiency becomes important to homeowners throughout the northeast. Your Massachusetts, Cape Cod, or Rhode Island home can become more energy efficient if you ensure you have adequate attic insulation in four places of your attic.
A Brief Introduction
While your local, reliable insulation contractor has answers for all four attic areas, no insulation is effective until air sealing is performed throughout your home. All the tiny gaps and cracks between attic and living space must be filled before any of the four places in your attic can receive their insulation.
Places that need air sealing:
Plumbing or electrical wiring passing between living space and attic
Ceiling fans
Recessed light fixtures
Chimney cases
Attic access ladders, hatchways, or doors
Once air sealing is done, your insulation experts can move on to the following four areas.
Cellulose Covers Most
Most of your attic insulation needs can be filled — no pun meant there — with cellulose insulation. Cellulose insulation, treated with a non-toxic, borate solution to make it pest- and mold-resistant, is blown in throughout your attic. Environmentally friendly cellulose insulation will not compress and provides a Class-1 fire safety rating.
Rigid Foam Insulation
Where fluffy cellulose insulation cannot fill your attic spaces, rigid foam board can be cut to fit odd spaces and little niches. Rigid foam insulation is durable, water resistant, and is quick and easy to install by trained professionals.
Radiant Barrier Insulation
Many New England homes take advantage of attic spaces by having ductwork run through the otherwise useless space. To prevent your HVAC system, heat pump, or central air conditioner from working too hard, radiant barrier insulation can be applied to the underside of roof sheathing.
A radiant barrier reflects up to 97 percent of infrared heat from the sun in summer. Instead of baking your attic, the heat is reflected back into the environment.
Duct Insulation
Uninsulated ductwork means three things:
Wasted money on high energy bills
Your HVAC system operating overtime
Your HVAC system staying on for long periods
When you hire skilled insulation technicians to apply spray foam duct insulation, you keep warm air moving through attic ducts in winter and cool air moving through those same ducts in summer. Your home in southeastern Massachusetts, Cape Cod, or Rhode Island will be warmer, cozier, and more energy efficient when you turn to Couto Construction for attic insulation. Contact us today and get ready to watch your energy bills shrink.