How To Know If You Should Finance Your Roof Replacement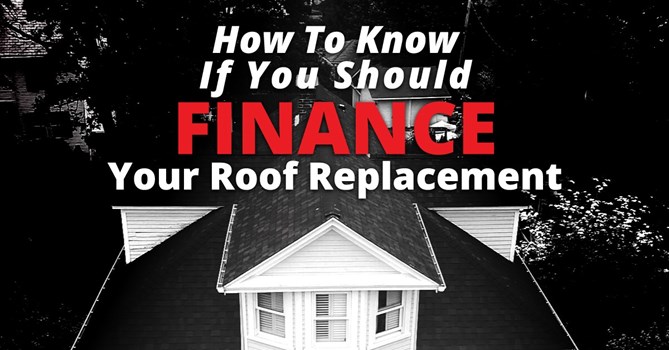 Knowing you need a roof replacement and paying for a roof replacement are two different issues. After deciding on roof replacement for your southeastern Massachusetts home, you must find a way to pay for it. Here are some tips on how to know if you need to finance a roof replacement.
Resources
In business, a new roof is a capital expense and can be amortized over many years. With residential homes, roof replacement is a home improvement with no tax advantage.
Financing or putting out cash for a roof replacement is a personal decision. Do you have the savings set aside for payments for the roof replacement? These payments are usually made, a third at a time:
upfront
at the start of the project
upon completion
The 2019 Federal Reserve Survey of Consumer Finances found that Americans between the ages of 35 and 44 had an average savings account balance of $27,900. A new roof could make a significant dent in your savings. Still, many Massachusetts homeowners could cover the total cost and then replenish their savings.
Avoid depleting your savings to pay for a new roof. An old financial axiom says, "borrow for the expected and save for the unexpected." Financing a new roof makes a lot of sense.
Credit
Many homeowners have valuable collateral locked in their homes, available for projects like a new roof, home addition, or interior remodeling. Though entirely a personal decision, you can opt to seek a line of credit for the new roof. Some resources could be:
A local credit union
A local bank offering home improvement loans
A Home Equity Line of Credit (HELOC)
The roofing contractor's own financing department
Many reputable roofers have relationships with local finance companies to provide attractive loans specifically tailored to home improvements such as new roofs, attic insulation, and new windows and doors.
For example, Couto Construction can offer a financing option which provides for no money down, no payment for six months, and 0 percent interest during the six months. If you need more than six months to pay, financing for up to 10 years is available, depending on your credit history. If you are in southeastern Massachusetts, Cape Cod, or Rhode Island, please contact us today at Couto Construction to discuss your home's roof replacement. Delaying roof replacement worsens your problems! We offer attractive financing solutions for every budget.