Attic Insulation Experts in New Bedford, Dartmouth, & Nearby Massachusetts
Upgrading attic insulation maximizes home comfort & energy efficiency
Insufficient attic insulation and air sealing can lead to significant home energy and comfort issues, such as high utility costs, fluctuating home temperatures, and an uncomfortable home atmosphere overall.
At Couto Construction, we provide superior Attic Systems attic insulation and air sealing solutions that are designed to improve the home's atmosphere and energy-efficiency. So if you want to lower your heating and cooling costs, maximize home comfort, and make your home healthier, call us today at 1-844-675-6344 or click below. We offer free estimates in New Bedford, Dartmouth, Fall River and nearby.
Cellulose insulation is the ideal way to upgrade attic insulation and improve R-value.
Our complete attic insulation services in Southeastern MA
Blown-in cellulose insulation
Rigid foam insulation
Radiant barriers
Air sealing
Duct sealing
Duct insulation
Ice dam prevention
Attic mold prevention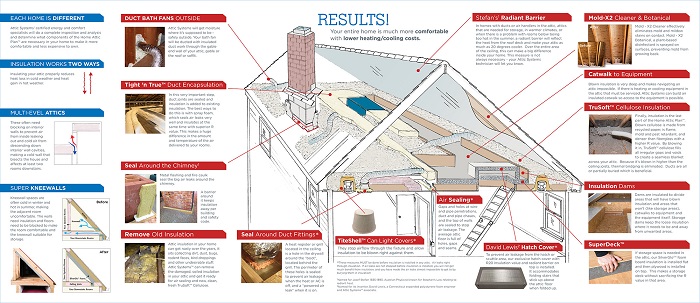 Click to enlarge the diagram and see how we provide complete attic efficiency and comfort solutions.
Signs of an attic insulation problem — and how we can fix them
Uncomfortable temperatures: Homes that are too hot in the summer and too cold in the winter may have a poor insulation barrier in the attic. When the attic is poorly insulated, it is not properly sealed off from your living spaces. Blown cellulose insulation meets recommended insulation levels and prevents air flow between the attic and surrounding rooms, ensuring you only pay for treated air in your living spaces.
Costly Utility bills: Insufficient insulation forces your HVAC system to run longer to get your home to the right temperature, which is obviously an expensive process. When your home has the recommended insulation levels, your furnace or air conditioner will be able to get your home to the temperature you want as efficiently as possible.
Uneven heating and cooling: A common home comfort complaint is that there are one or two rooms that just won't seem to cool down in the summer and warm up in the winter. Poor air sealing and attic insulation are often the cause of these problems. An air leak in that attic will affect the room directly below it most significantly, but it will also impact the overall home. For this reason, it's important to have consistent air sealing and insulation throughout the attic.
Visibly poor insulation: You can often tell if you have enough attic insulation just by looking at it. The U.S. Department of Energy recommends having between 13-18 inches of insulation, depending upon your local climate. According to the Insulation Institute, 90% of homes in the U.S. are under-insulated, and there's a good chance yours is too.
Improve home comfort and energy efficiency with superior attic insulation
Tired of poor attic insulation driving up your utility costs and causing your home to be uncomfortable? We at Couto Construction specialize in attic insulation and air sealing solutions that not only optimize energy usage but also maximize home comfort overall.
Whether you need blown cellulose insulation, proper air sealing, or any of our other services, we offer free estimates on these solutions and more. Call 1-844-675-6344 or click below to schedule yours in New Bedford, Dartmouth, Fall River, Plymouth, Taunton, Middleboro, North Dartmouth, Wareham, Bristol, Somerset and throughout the surrounding areas today!